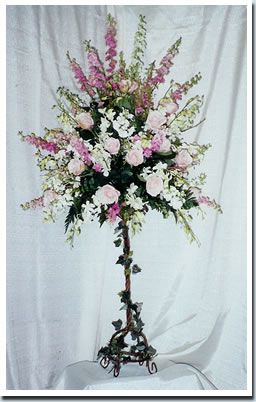 Yes EVENTION does huge events. But they start small. We create them with our unsurpassed attention to every element from the bottom up. Each petal and each piece that we handle is important to us. Yup…we're VERY into the details. That's why we maintain quality control and budget by producing so much in our own shoppe.
As a result we also buy our materials direct and are able to offer full retail services.
Call our 1-800 number, to reach our flower shop where the freshest arrangements, balloon bouquets, plants, food baskets, fine giftware, favors, invitations, accessories and more are available, piece by piece….order by order.
So whether you need one rose…or a room full, an Acrobat or a Zebra (get it, A to Z) we are here to serve you.
Call 1-800-91-EVENT and place an order today. We ship around the corner or around the world. And we'll put together custom items too.
Place mouse over thumbnails to view larger image.
Floral Arrangements
Plants and Trees

Centerpieces

Balloon Bouquets
Gift Baskets
Gift Merchandise
Favors & Accessories
Invitations
Signs and Banners
Custom Printing
Fruit Baskets
Chocolates
Tablescapes