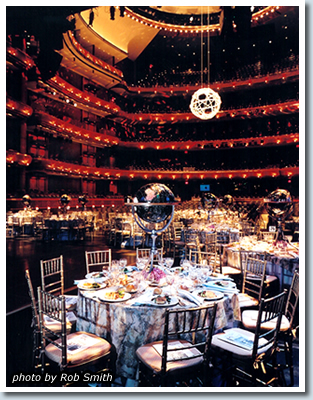 As discussed on our New Jersey based radio show "EVENT TALK," in today's competitive environment, fund raising events need to balance the Frou-Frou with Frugality. And Saavy Foundations and Fund Raising Committees know that the best way to do that is to create unique, memorable, compelling events that generate PR, word of mouth, interest and attendance. Those elements, in turn, can bring in the necessary dollars and donations while building the charity's brand, exposure, and base of new friends and supporters.
A good Event Designer will help you turn YOUR event into that kind of special success.
So they are literally worth their weight in gold as they'll ensure that you are getting great ideas, bang for your buck, intelligently negotiated pricing, the best vendors, proper protocol, useful timelines, adherence to budget and contracts, a "WOW" environment, and guest satisfaction.

EVENTION is the Event Designer of choice for MANY charities and non-profit entities.
Place mouse over thumbnails to view larger image.
Site Selection
Budget Development
& Tracking
Donor Relations
Theme Development
Entertainment/Celebrity Bookings
Speakers & Auctioneers
Invitations, Programs and Journals
Training of Volunteers
Special Podiums
or Props
Speech Writing
Protocol & Business Etiquette
Staffing & Registration
Stage Management
RSVP's and Seating Assignments
Golf Event Management
Auction Procurement
and Set-Up
Lighting
Ambiance and Decor
Sound and Video Presentations
Ad Sales
Schedule Creation
& Tracking
Contract Negotiations
& Vendor Coordination
Floor Plans