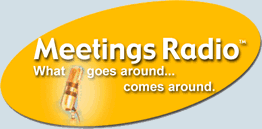 CATCH BETH SHUBERT,
President of Evention Inc.
on "EVENT TALK"
Webcast on MEETINGS RADIO.COM
FRIDAY MORNINGS 9am, EST.
Go to www.meetingsradio.com
CALL IN LIVE TOO at 201-585-9013

Beth Shubert founded Evention, Inc., a New Jersey based special events company in 1989. Having traveled extensively as a child and with family involved in the Restaurant and Hospitality businesses, Beth developed an early eye for sophisticated celebrating.
Beth soon partnered with Warren Schneider, a landscape and floral designer, to bring unparalleled style to their events. Evention has grown over the past 15 years to include a full design studio run by Warren as EVENTION'S Vice President. Their clientele ranges from Corporate clientele such as Pfizer and General Electric; to top Hospitals , The Red Cross and other Not-for-profits; to those desiring superior Social events such as the Distinctive Mitzvahs recently featured in "Special Events Magazine". EVENTION has also been written about in "Entrepreneur Magazine," "Parent Guide," "The Bergen Record" Newspaper, "Event World" Magazine, and on Biz Bash's Style page.
Her expertise compliments the MeetingsRadio team by bringing the eye of a Designer, the experience of a Catering Coordinator and the creativity of an Event Producer to our Friday show...Event Talk.